Inventory and Assess Your Existing Network
Free Technology Assessment Template
Do know how many wireless access points are in your building, or what type of switch you have?
While it's not necessary for you to understand everything about your IT equipment, it's important for you to have an inventory of your network infrastructure to provide to vendors and employees who may need to troubleshoot issues.
This Business Technology Inventory & Assessment template provides a framework to begin inventorying your network, identifying gaps, and planning for scheduled maintenance, improvements, and/or replacements.
It includes an inventory of your: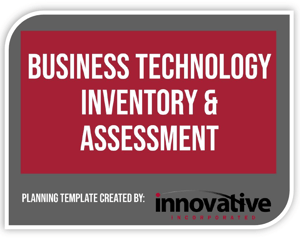 Network infrastructure
Back-up solution
Network security
Copiers & printers
Remote access & communication tools
Software & applications
Service providers
Compliance audits
Each section includes an area for you to identify priority items that need addressing, and opportunities for future improvement. The last two pages include a template to assign these tasks to team members and set timelines for completion.